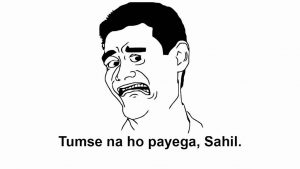 Here's the summary of this article
1. Bluegape blatantly copies content word-by-word from Storypick & other publishers/competitors.
2. Bluegape then makes random calls to Storypick team members to poach them. Offered random jobs and salaries on unsolicited calls.
3. Bluegape founder, Sahil Baghla whines when being called out.
4. So here's a fact/evidence based article to call out Bluegape publicly.
Here's what happened:
1. Since January 2015, we at Storypick noticed that a site called Bluegape had started plagiarizing each one of our original articles. Word by word, image by image, they won't even change the title. Inspiration is different, and word by word copying is different.
2. There was one instance of copying, we ignored. There was 2nd instance of copying, we ignored. Then they started copying all of our articles, we decided to ignore them completely because copying cannot be a scalable business model. Neither can it be the main strategy of a publisher. Here are the screenshots of some of the articles they lifted directly from Storypick: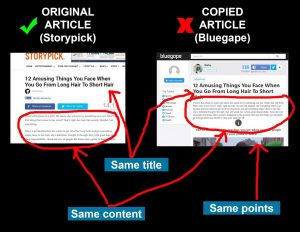 3. Moreover, it's not only us. Here's an article from Scoopwhoop they copied. So their strategy is to plagiarize from every publisher. We still decided to ignore because we (unlike Bluegape) have to create our own original articles.




Here's a similar complaint from The Daily Moss: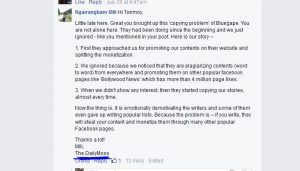 4. In the meantime, I decided to check the story behind Bluegape & I wasn't surprised when I read this article from NextBigWhat from December 2014 on Bluegape shutting down. Here's the gist of the article titled: "Bluegape Shuts Down Due To Copyright Issues".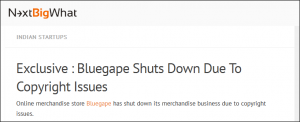 Bluegape started as a fan merchandise & customization platform where users can create art and sell it online. They had to shut down when these 'users' (*cough* fake accounts *cough*) started selling copyrighted stuff online.


Ring a bell?

Yes, they've a history of lifting original content. Habitual plagiarizer? And even after raising investment, they resorted to plagiarism and had to shut down operations ultimately. And then from 2015 onwards, they decided to pivot to publishing lists. But clearly, they hadn't learnt anything from their past mistake: they resorted to plagiarism in publishing too. (Evidence as shown above)
So why am I writing this story? Why should I be bothered?
Here's why.

1. A couple of days back, one of my champ creative writers received an unsolicited phone call from Blugape hiring (poaching) team. They offered her a direct job. She laughed at the caller's face. Why would someone join a team of copy-cats? Whatever be the salary, so she politely declined.
I decided to ignore.
2. Day before yesterday, the Bluegape poaching team rang up another champ of Storypick & offered her a direct job of leading their content team. And said, "Just tell a number, we'll pay you." Our champ politely hung up the call.
I decided to ignore. NOT.
Because there's a line you never cross. And Bluegape got on my nerves when they took our polite behavior for granted. You copy once, okay. You copy twice, okay. You copy every article, okay. You ride on traffic created by copied articles, okay. You stalk my employees, find their phone numbers, cold-call them, offer them jobs, offer them blank salaries, okay.
Then you've the audacity to call my 2nd employee, and waste our time and money….that's when you cross the line. That's when you interfere with my business. That's when you enter a territory you're not welcome; not only by me but also by my team. I just can't keep ignoring a habitual plagiarizing stalker who can stoop down to any level.
That's when I got pissed off and sent out this email to Sahil Baghla.




I would like to stress that in the past I've politely resolved less severe conflicts with respected publishers and competitors. But clearly, Bluegape didn't deserve any better. Hence, I don't regret this email.
The dude replied with a nonsensical list where he basically wanted to say: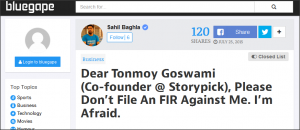 That's the best he could come up with. Because obviously, he can't manufacture facts against us out of thin air. So I decided to write a response article which is fact based.
oOo
Poaching etiquette
If you're an aspiring entrepreneur or a casual reader wondering if there are ethical unwritten rules to follow while poaching employees, here are some references by people who've been there, done that:
– Thou shalt NOT poach from a startup whose CEO is your friend!
– Thou shalt NOT poach from a startup that has not raised a round of funding!
– Thou shalt NOT poach from a startup that has less than 10 people!
– Thou shalt NOT poach from a funded startup whose CEO is your friend, until you've talked to said CEO and received his/her OK!

Read more here: http://www.techstars.com/startup-poaching-etiquette-be-a-richard-not-a-dick/



Basically, it says, "Don't be a dick."
Sahil, now you can ask your team to copy this article and post it on Bluegape.