You must have experienced a variation of the following situation:
While travelling home, you notice a billboard of a brand (say, Toyota's latest car); you make a passing remark about it to your partner.
"Toyota Glanza looks eerily similar to Baleno, isn't it?"
"They are basically the same car.", replies your partner.
The next day at office, Toyota Glanza ads are all over your Facebook, Twitter, Google, Gmail etc.
You don't believe it!
Many people experience the 'my phone is listening to me' moment when they encounter advertisements targeted to them online.
But here's a little secret- Your phone isn't listening to you! It's the billboard ad that's tracking you.
Here's how it works:
Every smartphone (Android/Apple) has a unique Advertising ID (or Identifier for Advertisers on Apple products) attached to it.
Ad IDs are like a tag against your 'profile'. They don't know it's you, but they know it's someone who owns a Samsung S20 phone, has Zomato app installed, uses Google Pay, shops on Amazon, works at Andheri (thanks to location tracking), travels to Versova often, uses Chrome browser, so on and so forth.
The more you use your phone, the more data your 'profile' against the Ad ID contains.
Ad IDs are used by marketeers, brands, advertisers to anonymously identify and target people.
So when a brand (say Toyota) puts up a billboard at Lokhandwala, they can later target phones that were near their billboard in (say) the last 7 days.
Understood, now tell me what to do about it! 😠
There's no full proof way of avoiding it completely. But to have some sense of control, you can reset the Ad ID on your phone on a regular basis to keep resetting your 'profile'. Here are the steps on Android:
1. Open Settings – search for 'advertising id'
2. Click on 'Reset advertising ID' and enable 'Opt out of Ads Personalisation'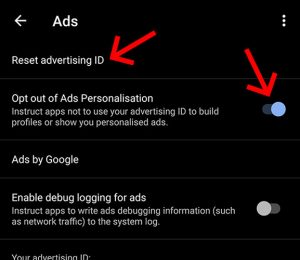 3. Your Ad ID will be replaced with a new random number.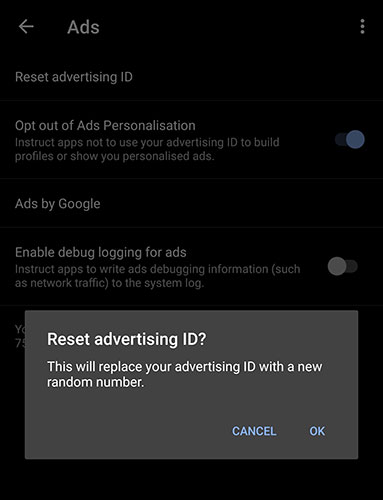 Pro tip: Setup a repeating weekly reminder on your ToDo app to reset it every week.
Cover photo by Fox